Charles is a tit man.

This is the earliest known public photograph of Charles and Camilla, at a polo match at Windsor, 1970.
Camilla marries Andrew Parker Bowles, July, 1973, then alleged to be London's finest swordsman, after an alleged menage a quatre in which Andrew was dating Princess Anne and Camilla took up with Charles in retaliation. Anne and Andrew have been seen consorting lately, after the death of Andrew's second wife.
At some point in 1980 or 1981, one of those repressed but very sharp-eyed Brit pandits noted that Diana, too, bore the "low-slung Windsor bosom", and the particular piece of that marriage puzzle related to the Prince's kink clicked in. This has been explained in many ways, most of them having to do with the Queen's departure on a world-wide progress in 1954, leaving kindergartner Charles alone at home. Upon her return, after six months, her 6-year-old heir lined up with the other dignitaries to shake hands.

Lady Diana Spencer emerges from a car on her first public engagement with her fiance for a party with Princess Grace. March 1, 1981. The dress is by Elizabeth Emanuel, who also designed her wedding dress.
I have been thinking about the Queen's breast ever since, and yesterday's royal wedding dress put them squarely on the table yet again.
The Tudor breast was famously armored, in keeping with the virgin queen's assertion that "Had I been born crested, not cloven, you would not speak thus to me." Thus does Elizabeth I set up, unforgetably, the frankness with which a Queen may refer to her genitals while rendering her breasts invisible. It's an interesting trick of abstraction and
self-iconography in which Elizabeth I was expert, and which much depended on her femininity, its perceived vulnerability, and her insistence that no marriage could be undertaken for political -- and possibly personal, given her mother's beheading by her father -- reasons.

An art historian friend once pointed out that those baaad Tudors always had the arrow pointing south. Away, I would point out, from the Queen's breast.
Her older sister, the Catholic Mary I, dressed herself more grimly but without recourse to lacy Catholic bride/madonna breast tropes, also possibly because she was head of state.
In the 18th century, Queen Charlotte's monobreast was equally armored if more exposed, possibly because she was consort and not head of state.
Interestingly, Queen Victoria's 1838 coronation dress bared the chest, part of the shoulder, and emphasized the monarch's femaleness by fitting tightly over the bosom, down through the waist to the gigantic skirt her court painter Winterhalter did so much to make iconic for royal brides. Her curves are literally outlined in the ermine trappings of her crimson velvet robe. Thus did the slim 18-year-old queen first assert and reveal the power of her personal body, and the monarch's breast, rather than with Elizabeth's more direct, and yet more armored, genital reference. Her dress was white satin embroidered in gold with a Greek key motif.
In their coronation robes -- their uniform -- the 19th and 20th century queen consorts, Alexandra, Mary and Elizabeth, promoted the racy uplifted bosom and tightly corsetted waist that Victoria and the Winterhalter tradition made iconographic. These paintings feature at Windsor and others of the royal palaces and have done much to form the royals' own concept of female attire.
Alexandra's dress was gold, her daughter-in-law and granddaughter-in-law reverted to Victoria's white satin embroidered in gold.
http://plays-with-needles.blogspot.com/2011/02/becoming-queen-part-ii.html
The next queen regnant was Elizabeth II, who followed conscientiously in the path of her foremothers -- or Winterhalter, said to be a favorite ladies' wear arbiter of her father's. Her coronation dress uplifted the royal breast, cinched in the royal waist, was carefully confected by its designer, Norman Hartnell, not to repeat the somewhat softer but still iconographic wedding dress he designed. The coronation dress went through
nine separate designs
, until the queen was pleased with a full-skirted white dress, embroidered with symbolic shapes in gold with
slightly tinted silk thread
. Hartnell added the tints after the Queen said the dress too much resembled her all-white wedding dress. Her bosom, like Victoria's was up, with cleavage well covered, yet interestingly emphasized with a gold-bordered sweetheart "neck" line:

This image is not my favorite, but it renders the details of the coronation dress accurately.
How the dress moves, and how it is much less feminine and much more religious in its stiffness and volume, can be seen in this Youtube clip of the 1953 coronation, from 1:55 to 2:38. It's not clear whether or not the Queen has what I'm thinking of as monobreast or two articulated breasts, an important theme to which we shall return. I think it's two articulated breasts, that is with their separateness emphasized by a declivity in the fabric between the two.
http://youtu.be/ORMN48SdQJE
All through her reign, the queen has worn a similar white formal dress, or uniform, to open Parliament.
Her wedding dress was similar, white, Hartnell, embroidered shapes representing the commonweath countries, except with long sleeves.

Note the bosom; that is the origin of the observation about the Windsor bosom. The Queen had a fabulous figure.
Here is the 1953 coronation dress she wore six years later. I submit the sweetheart "neck" line begins, or hints at two separated or articulated breasts, a movement which gets very serious in the 1950s.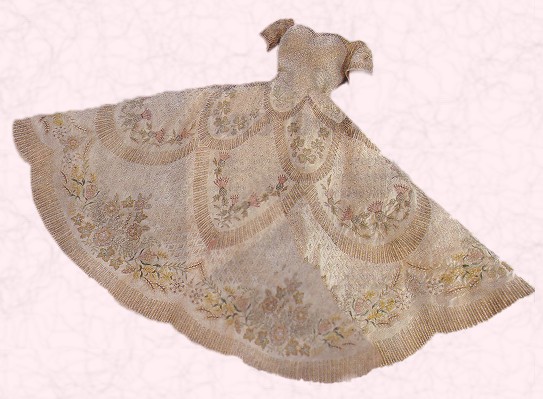 Neither her wedding dress nor her coronation dress featured any kind of lace, though Queen Victoria's and Alexandra's did, with special emphasis on the British provenance. Victoria was photographed as Queen wearing lace mantillas, but I can find no royal lady wearing lace as a see-through element in her outer garments. Except, of course, the Duchess of Windsor's nightgowns which somehow came up for auction recently. These garments inset with lace are, as I can hardly believe I have to point out, private sexual garments.
Almost everyone has made the analogy of Duchess Waity's lacey wedding dress to Grace Kelly's 1956 wedding dress. That garment was designed by the MGM studio wardrobe designer, Helen Rose, who'd previously won an Academy Award for dressing sweater girl Lana Turner in
"The Bad and the Beautiful"
.
Rose had just finished dressing Kelly for "High Society", in which Kelly is alleged to have worn her real engagement ring, from Prince Ranier, throughout.
Here are the clothes Rose made for Kelly in the movie:

Note the play Rose makes with see-through chiffons and now-you-see-it-now-you-don't-Greek-goddess draperies in the bathing suit and cover up.
Just the thing for a princess' wedding gown, yes? Someone whose clothes-fashioning values are for the cameras, and for the enhancement of a screen actress' sexuality. Kelly was notably flat-chested, in the era of Marilyn Monroe and Howard Hughes' rocket cone underwire bras, and while Rose's relationship with lace was longstanding, her masterful play with peekaboo is clear from "High Society".
Rose claimed to have cannibalized her previous work
on a dress for a Dorothy McGuire film for Kelly's wedding dress:

"Invitation", Dorothy McGuire, 1952, dress by Helen Rose. The blouse is of rose point lace and was designed to be worn after the wedding with different skirts and pants.
http://www.acertaincinema.com/browse/person/helen-rose/?p1=$&p2=1&p3=1&p4=1
Please note, in a dress seen a year before the Queen's coronation, the beginning of the sweetheart neckline of articulated breasts as the decade moved into cleavage, Hughes cone bras, Jayne Mansfield, bikinis, and a celebration of breasts, where Grace Kelly, for one, had little to show.
Tomorrow: Lace, Princess Beatrice and Lady Gaga